Chicken Alfredo with Zoodles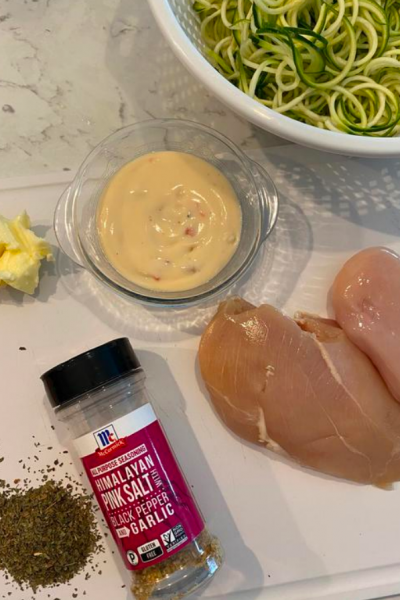 2 x zucchinis, ends trimmed
2 tablespoons butter
2 x boneless, skinless chicken breasts, sliced thinly
1 teaspoon Kosher salt
1 teaspoon freshly-ground black pepper
3 x cloves of garlic, minced
1 cup alfredo sauce
fresh parsley to garnish
When choosing an Alfredo Sauce:
Brands found in the refrigerated section are best
Whole Foods brand is great
Primal Kitchen brand is one of our favorites (dairy free, plant based)
General rule of thumb is looking for clean ingredients as well as < 3g sugar and < 3g carb per serving.
If you'd like to make your own, try this recipe: Easy Low-Carb Keto Alfredo Sauce Recipe – Gluten Free
Step 1: Using a spiralizer, mandoline, or vegetable peeler, turn the zucchini into thin noodles. Pat dry with paper towels and set in a colander, sprinkle with salt *this also helps to take out some of the moisture. Return to the towel and let set until use.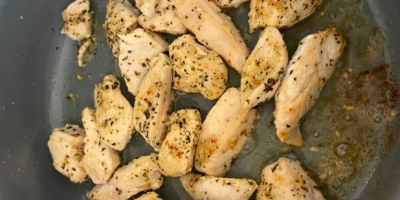 Step 2: Melt the butter in a large pan over medium heat. Add the chicken, salt, pepper, and garlic and cook until the garlic is beginning to brown and chicken is cooked through, about 7 minutes. Remove the chicken from the pan.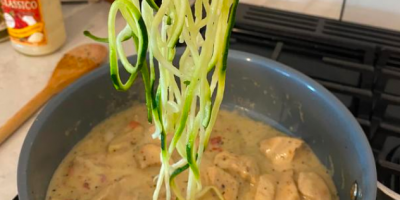 Step 3: Add the alfredo sauce. Put the chicken back in the sauce and stir to coat. Remove from the heat and season to taste with salt and pepper if needed.
Step 4: Toss the zucchini noodles in with the chicken mixture and stir until the noodles are coated evenly. Serve with more parsley and a sprinkle of nutritional yeast, if desired.