Emotions & Gut Health
Gut Health = Your Emotions
Believe it or not, your emotional state has a lot to do with how healthy your gut (digestive system) is.  All the parts of your body work together as one system; if one element is out of balance, it will affect everything else.  If your gut health is poor, your overall health will be negatively affected.
Your health really starts in your gut; it's where the nutrients from the foods you eat are "processed".  There are tens of trillions of microorganisms, including at least 1000 different species of known bacteria in your gut. These microorganisms aid in digestion and metabolism, produce vitamins, and are part of your immune system. These microbes also produce neurochemicals that can influence your brain function and change your mood.
In the last 20 years, studies have shown links between gut health and the immune system, mood, mental health, autoimmune diseases, endocrine disorders, skin conditions, and cancer.  Learning how to care for, heal and prevent damage to your gut is essential.
The first step to a healthy gut is to stop or limit the things that harm it, such as:
Smoking
Alcoholic Beverages
Lack of Sleep
Unchecked Stress
Antibiotics (not to say that antibiotics shouldn't be used when medically necessary, but additional steps to protect and regain gut health will need to be taken)
Processed foods, sugar (in all forms) and inflammatory foods such as grains and dairy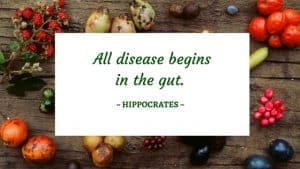 Bonus:  Limiting or avoiding these items will increase your health and wellness for your entire body!
Things that improve gut health include:
Eating a diverse range of foods including fermented foods (like raw sauerkraut, kimchi or kefir), blueberries, cherries, kale, spinach, black and green tea, curcumin (the active ingredient in turmeric), coconut oil, fish, meat and eggs.
Prebiotic foods (to feed the beneficial bacteria)-such as garlic, potato starch, and artichoke
Clean water (tap water can contain many contaminants including chlorine which kills bacteria)
Being intentional about reducing your stress: journaling, meditating, and mindful breathing
One amazing fact specifically related to emotional health is that gut bacteria manufacture 95% of  your body's supply of serotonin, an important neurochemical that can affect mood, digestion, and sleep.  An unhealthy gut can also increase the physiological symptoms of and exacerbate depression, stress and anxiety.
Caring for your gut is caring for your whole self-mind as well as body!
Fact: Your gut houses 70% of the cells that make up your immune system.
Awareness Challenge this week

: Take one step this week to improve your gut health! Your gut will be happy (and your mind too). 
Tune in next time; we'll discuss how artificial light is associated with weight gain!  
In the meantime, if you'd like to know more about living a healthier lifestyle, reach out to us for our professional guidance and support. Give us a call!
Farmington  505.787.2981     Durango  970.764.4133    Ormond Beach 386.238.9222  Asheville 828.552.3333
The past cannot be changed. The future is yet in your power! 
Blog Photo Credit: Personal Trainer Spokane
Cover Photo Credit: Psycom.com