More Than Your Cup of Tea!
That cup of warm tea does a lot more for you than just make you feel warm and cozy on a cold day. Tea will feed your microbiome (a.k.a. your gut) which is probably why you feel that warm fuzzy feeling inside! Polyphenols feed a healthy gut and there is no food that contains more polyphenols than tea. When you have a healthy gut, you have a happy brain!
There are many varieties of tea, black, green and white tea; the main difference between them being how they are processed. The less processed the more polyphenols there are. White tea is the least processed and black tea is the most processed. So, if you're trying to lower your caffeine intake and up your antioxidant levels, white tea will be your best choice. If you're looking for an energy burst, lean towards your green teas and black teas! Herbal teas like chamomile, peppermint, ginger, hibiscus, etc aren't really tea because they are made of only herbs instead of containing white, green or black tea. Herbal teas do contain a variety of other benefits for your health.
So Why Drink Tea?
The many benefits of teas are as far reaching from inhibiting growth of pathogenic strains in your body, preventing dysbiosis by increasing the healthy bugs in your gut and improving digestion by suppressing sugar cravings.
Caffeine in tea also increases thermogenesis; this can help contribute to weight loss and cell regeneration. Tea enables our bodies to push our stored energy into a ready state to use. Burn baby, burn!  PHD Approved!
Stress Busting Teas & The Practice
It's important to incorporate this practice of drinking tea as part of a relaxing ritual! During a moment of stress or late-night craving, grabbing a warm cup of tea will help bring in a rewarding, healthy practice to your lifestyle.
Below are teas that have calming effects on the body:
Linden Tea
Green Tea
Chamomile Tea
Rosemary Tea
Catnip Tea
Oat Straw Tea
Calming your mind is a good practice for overall health and you can start this practice by slowing down and watching your tea brew in a clear mug. Also by fine-tuning your sleep routine, cutting back on sugar (replacing it with tea, because it helps to reduce your hunger hormone ghrelin) and getting outside for fresh air will help your ability to handle stress. Breathe the tea!
Herbal Teas You Should Definitely Sip On!
Chamomile tea – Has been used for it's calming effects and helps with a better night's rest. Also has anti-bacterial, anti-inflammatory and liver protecting benefits!
Hibiscus tea – Not only great as a cold brewed tea for a hot warm summer day but can also help with high blood pressure.
Rooibos tea – Bone Health Tea! This tea can help stimulate the cells involved in bone growth and density. Let's get strong bones!
Rose Hip tea – Helps for weight management, decreasing your BMI and belly fat! Also helps fight skin aging! While you're at it spritz rose water on your face to awaken your senses.
Ginger Tea – This is your inflammation-fighting tea and stimulates your immune system. Also, a remedy for nausea and helps indigestion.
Peppermint – Last but not least one of my favorite tea's in the afternoon, this helps support digestive tract health! Also known for its anticancer, antibacterial and antiviral properties.
*Best sources of tea for overall health will be your organic loose-leaf teas (especially for freshness), as tea crops are very pesticide laden.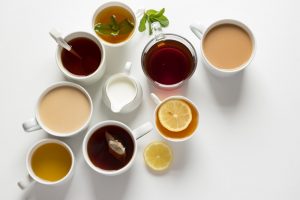 Fact: In a Swedish study showing tea's protective impact against ovarian cancer, 1 cup a day (black tea) lowered the women's risk by some 24%. Two cups a day decreased risk by 60%. (It's important to note that these kinds of dramatic results were not replicated in other prominent studies.) Some research related to tea's allegedly protective effect in cardiovascular health cites 3 cups a day.  
Awareness Challenge this week

:

Go down the tea aisle this week and pick out something that sparks your taste buds. Bring a cup of tea into your daily routine every day this week.
Tune in next time; we'll teach you how to PHD proof your Vegas trip!  
In the meantime, if you'd like to know more about living a healthier lifestyle, reach out to us for our professional guidance and support. Give us a call!
Farmington  505.787.2981     Durango  970.764.4133    Ormond Beach 386.238.9222  Asheville 828.552.3333
"To ensure good health: eat lightly, breathe deeply, live moderately, cultivate cheerfulness, and maintain an interest in life." – William London
Blog Photo Credit: Unsplash
Cover Photo Credit: Organic Facts
Blog Sites:
Paleo magazine
VeryWellMind.com
Healthline.com