Garlic's Magical Powers
What Other Benefits Does Garlic Offer Besides the Garlic Breath?
To celebrate National Garlic Day I wanted to highlight this amazing little bulb! Whether you love eating it raw, cooking with it or don't know much about it yet, you will learn a few more great added benefits to including it in your diet. Garlic is found in almost every culture around the world and been used for thousands of years. With it's easy accessibility there's really no excuse to not having garlic sitting on your counter top and in your bellies.
What Are The Health Benefits You Ask?
Garlic has been linked to reducing or helping prevent major diseases such as heart disease, cancer, stroke and infections. It's strong antibacterial properties, which block the formation of cancer causing substances, might explain why it has a preventative affect against some cancers. I love garlic as an immune booster, cold buster remedy, whenever I feel it's that time of season or a throat tickle coming on I make sure I boost up garlic use. It's even found to help with hair loss when applied to the scalp, from a study done in Iran. Lastly garlic can help stabilize blood sugar levels, especially helpful for diabetics.
Let's get garlicky! Have fun including this super food into stews, summer veggies, roasting with it, adding it to drinks, making salad dressing, the recipes are endless. You can even take capsules or use garlic oil tinctures.
Cold Buster Drink: 
2 tbsp of apple cider vinegar
Juice from 2 lemons
1 tsp of fresh grated ginger
1 clove crushed garlic
1/8 tsp cayenne pepper
Mix together in a 16 oz glass of water and drink twice daily!
Great Garlicky Recipes: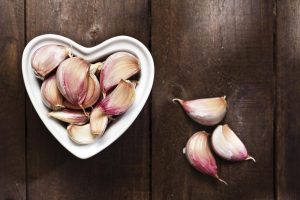 Fact:

Garlic has a more than 7,000-year-old history of human consumption and use. In ancient and medieval times, it was revered for its medicinal properties and was carried as a charm against vampires and other evils.
Awareness Challenge this week: Try incorporating garlic into your lifestyle this week

! 
Tune in next time; we'll discuss the importance of the Heart, Mind & Body!  
In the meantime, if you'd like to know more about living a healthier lifestyle, reach out to us for our professional guidance and support. Give us a call!
Farmington  505.787.2981     Durango  970.764.4133    Ormond Beach 386.238.9222  Asheville 828.552.3333
"You can never cross the ocean until you have the courage to lose sight of the shore" – Christopher Columbus
Blog Photo Credit: MedicalNewsToday.com
Cover Photo Credit: Draxe.com