Ocean to Plate Benefits
From ocean, to oven, to your plate
In Ormond Beach, we are indeed spoiled by living here along the good old east coast. You've got the sun, sand, and beautiful tree lines that could almost double as mountains from afar (or as us Floridians like to pretend- We know our Durango family is laughing)! Volusia County is home to about 47 miles of Atlantic Ocean beaches. These sandy getaways are best known for their sharks, surf and their wild game fish. The fish that is caught out at sea does not compare to the fish bought from the grocery store. There is something about it, maybe because it takes us all the way back to the hunting and gathering phase of our ancestors. Whatever it is, the fight of reeling in the catch of the day and bringing it home to enjoy a healthy meal with the family around the dinner table, exceeds all other expectations.
No matter where you are headed, you will always see at least two vehicles with a fishing boat trailing behind it. In the Volusia County area, there are about 500 species of saltwater fish that fishermen can hook up to. Some of the most popular ones to catch are Red Fish, Trout, Bonita, and even Flounder. There are so many different ways to reel in one of these bad boys. Fishermen can be found fishing off of their own boat, or you can rent one. You will also find them lining the piers on the beach or along the rivers. They will also cast off of bridges and even score some good ones while walking along the riverbank.
If going fishing is not your speed, do not worry, there are plenty of local eateries in the area that serve the local fresh catch. The benefits of eating fish as a primary protein is abundant. Fish is a great source omega 3s, which are anti-inflammatory. Fish are also packed with Vitamin D, B2, Calcium, Iron, Zinc, Magnesium, and Potassium. WOAH! A local restaurant in Daytona Beach named Millie's Restaurant, gets all their fresh fish and produce from local fishermen and farms throughout the area. You are guaranteed a good quality fish dinner along with a unique and fun atmosphere. If you do not want to travel down to Daytona, Hull's Seafood off of Granada has a great selection of fresh fish, too.
We love good quality protein here at PHD and what better way to get it than locally here in Volusia County. Like the old saying, "you teach a man to fish, you feed him for a lifetime". If fishing is not your game, then head on over to Millie's to see what fresh catch special they have cooking up. For more information on fishing and consuming fish in Florida, check out the Florida Fish and Wildlife Conservation Commission.
Great places to get fresh fish in Durango:
Sunnyside Farms Market
Flying Fish Co II
Fresh fish in Asheville: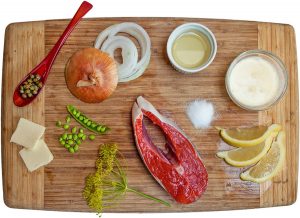 Fact: Studies have shown that people who eat fish every week have more grey matter in the centers of the brain that regulate emotion and memory 
Awareness Challenge this week:

Try out a delicious fish recipe this week! Get your boost of omega-3's! 
Tune in next time; we'll discuss why you should eat garlic!  
In the meantime, if you'd like to know more about living a healthier lifestyle, reach out to us for our professional guidance and support. Give us a call!
Farmington  505.787.2981     Durango  970.764.4133    Ormond Beach 386.238.9222
"You can never cross the ocean until you have the courage to lose sight of the shore" – Christopher Columbus
Blog Photo Credit: Chicago Magazine
Cover Photo Credit: artofplasticsurgery.com