Healthy Breakfast & Lunch
Today we will focus on breakfast and lunch.
In the next two posts, I want to spend some time providing you with healthy options for meals and snacks.
Although we've been told that breakfast is the most important meal of the day, don't feel like you need to force yourself to eat a big breakfast. 
But eating something with dietary fat and protein is important!
High carb breakfast items like cereal or a sweet roll will give you an initial burst of energy from your blood-sugar high, but you will also experience a compensatory low that results in fatigue, brain fog and more sugar cravings later in the day.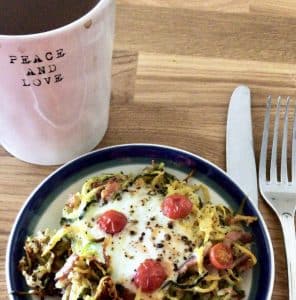 Some ideas for Breakfast:
To prevent the roller-coaster, try an egg omelette with non-starchy vegetables, cheese if it works for you and perhaps a little uncured bacon
Saute some eggs and top with salsa.
      In a hurry?
A serving of full-fat plain greek yogurt with berries is a great option for those of you who don't like eggs.
A protein shake with cream, coconut milk or olive oil and some ice.
AVOID juice, it's just liquid sugar. Stick with water, tea or coffee with real cream!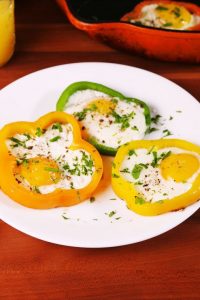 Lunch time!
Helpful tip: Prepare your lunch the evening before and remember protein is key for long-lasting energy.
Try leftovers from dinner like grilled steak or chicken on top of greens.
Add more flavor with a full-fat dressing, cheese and nuts.
Chicken or tuna salad with avocado oil mayonnaise and for some fun add some jicima or turmeric to the mix.
Make lettuce wraps instead of using bread
If you have to go out for a work lunch – order a burger without the bun and a side salad instead of fries
More restaurants are happy to accommodate your request for veggies instead of rice or potatoes.
Hope these suggestions give you a good starting point for a healthy meal!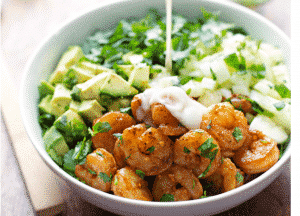 Fact: The concept of breakfast food didn't exist in the U.S. until the mid to late 1800s, according to Abigail Carroll, food historian and author of Three Squares: The Invention of the American Meal. 
Awareness Challenge this week: Try incorporating one of our breakfast & lunch ideas 3-4 x this week. Let's start preparing our health now for the New Year ahead! 
Tune in next time; we'll share how to bring on the New Year Resolutions!  
 In the meantime, if you'd like to know more healthy meal options that will promote weight management and improve sports performance, reach out to us for our professional guidance and support. Give us a call!
Farmington  505.787.2981     Durango  970.764.4133    Ormond Beach 386.238.9222  Asheville 828.552.3333
"Joy does not simply happen to us. We have to choose joy and keep choosing it every day."  – Henri Nouwen
Blog Photo Credit: https://greatist.com/eat/paleo-lunch-recipes
Cover Photo Credit: https://www.delish.com/cooking/nutrition/g1412/quick-healthy-breakfast-recipes/