Bring on the New Year Resolutions
Bring It!
As we are closing in on the end to another year, we begin racking our brains of what new resolutions we can create to make the next year even better. But making change is hard, especially when it comes to aspects associated with personal health improvement, such as losing weight or eating better.  For many of us, we don't even start the process of change out of our fear of failing.
Changing our mindset and being open to experiencing new opportunities are often helpful to achieving successful transformations in ourselves.  Below may be some new perspectives to help.

View exercise differently.  
When we dive into the scientific literature associated with exercise and health, we find that it really isn't a potent weight loss tool for most of us. It is however, a wonderful wellness tool; it helps with mood, stress, sleep and strength. Fortunately, exercise does not have to mean going to the gym for hours. You can be more active simply by engaging in different activities.
You can take up tennis and play on the 3rd avenue courts or join the pickleball league at the Durango Rec Center!

If that's not your style, try something slower paced like yoga.  Check out the full schedule from just a few of Durango's yoga studios – Yoga Durango, Namaste, The Sweaty Buddha, 4 Corners Yoga

Tune in the New Year for a PHD team meetup walk on the river trail. Coming soon!
A healthy diet begins at home! 
This is the main component for increasing health benefits and decreasing fat mass.
To start the year off right, you can begin by clearing out your cupboards of all the holiday junk food that may otherwise deter you from a healthier start to the New Year.

Replace the old junk with whole foods to guarantee yourself to choose better options.
Save money by packing a lunch and bringing it with you to work or school. This will lead to fewer temptations and will likely decrease cravings and overeating.
Meal prep every Sunday. Cooking a surplus of your lunch items during the weekend and placing them in individual containers will save you time and unwanted stress in the mornings.
Manage your stress levels.
Chronic stress can inhibit optimal functioning of the body and brain. Increased stress levels can cause weight gain, prevent successful weight reduction, and result in premature aging along with a whole host of other negative health consequences.
Guided meditation may help you change your mindset. There are many apps available that you can download on your phone to help you get started such as Headspace.
Constantly giving yourself positive feedback not only makes you feel better temporarily but creates pathways in your brain that allows for easier mental and emotional control in the future when things tend to get negative.
Try journaling every day: First, write down three things you are grateful for; second, write down what outcomes you want to achieve that day; and lastly, repeat your unique incantation (mantra). Start your new year off with a change of mind; appreciate all that is to come and all that you currently have.
Change your mind to change your life!
A great way to start the new year is to tackle your mind and body as a whole. Visit PHD Weight Loss to take the first step toward lifelong health and wellness.  With us as your team, you will naturally and successfully let go of unwanted weight, hunger, and cravings. Best of all, the PHD maintenance program lasts for life and is free to you. Call us to schedule an initial consultation and begin your life change today!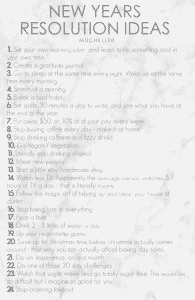 Fact:

 Unfortunately, about 22% of resolutions fail after about a week, 40% after a month, 50% after 3 months, and 60% after 6 months. Not you – you're in it to win it!   The number one reason for failed resolutions? Lack of a clear goal.
Awareness Challenge this week:

Be specific with your goals. Example: Want to read more – set a goal of reading just 15 minutes a day. Write down your goals and how you're going to achieve them. Be SMART! Specific! Measurable! Attainable! Realistic! Time! 
Tune in next time; we'll share some ideas for healthy snacks and dinner meals!  
 In the meantime, if you'd like to know more about changing your unhealthy behaviors, reach out to us for our professional guidance and support. Give us a call!
Farmington  505.787.2981     Durango  970.764.4133    Ormond Beach 386.238.9222  Asheville 828.552.3333
"Write it on your heart that everyday is the best day in the year." Ralph Waldo Emerson
Blog Photo Credit: https://www.youtube.com/watch?v=v3XLqE0MXTw
https://www.northpoint-training.com/leading-self/146-motivation-the-key-to-achieving-goals
Cover Photo Credit: https://www.boardvitals.com/blog/new-years-resolutions-trends-doctors/