Establishing a Healthy Lifestyle for Children
Developing Healthy Roots for your Children's Life
Making sure that your children eat healthy foods that will nurture their brains and their bodies can be a challenge. Especially for picky eaters who'd like nothing more than a bowl of cereal for dinner instead of a healthy meal.
But you can provide a healthy diet with some compromises to help keep you and your kids on track.
Some healthy ideas to begin the day with:
Focus on proteins and dietary fats first!
Try scrambled eggs topped with cheese for breakfast
French toast made with eggs, a dash of vanilla and a splash of heavy cream, garnish with full-fat yogurt and berries
Olives, meat & cheese snack box
Hummus, avocado, and cheese wrapped inside a slice of uncured deli meat
Full fat yogurt with berries
Nut thins and cheese
Low-sugar beef jerky
Ideas for Dinner:
Vegetables with butter (Makes them taste great!)
Chicken with sweet potato fries and ketchup (lower-sugar ketchup if you can)
Steak with broccoli topped with butter
Mac n Cheese with cauliflower added to the mix
Meatballs made with 80% lean ground beef with some spices and ketchup – to help bind them use shredded zucchini and carrots instead of breadcrumbs. (Simmer the meatballs in marinara sauce for about an hour, then serve topped with Parmesan cheese and broccoli and butter on the side. No noodles needed.)
Substitutes:
Grass-fed organic hot dog instead of your basic hot dog (nix the bun)
Carrots or cucumbers with ranch or humus dip instead of chips
If chips are a must, go for those fried in avocado or coconut oil.  Honest brand has some great ones.
Trail mix or salted nuts instead of sugary snacks
Low-sugar ketchup instead of original
Upgrade your child's unhealthy favorites with healthier options!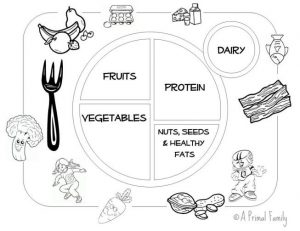 For a do-it-yourself breakfast, have your kids prepare a serving of full-fat cottage cheese or plain yogurt with fresh or frozen berries and perhaps a drizzle of honey.
If your kids say they just have to have some chips, try for root veggie options like sweet potato or beet chips. Try to find chips fried in coconut or avocado oil and serve them with a dip or sauce so they'll eat fewer.
Drinks count too! Forget fruit juice, it's just another source of sugar and kids can get all the vitamins they need from their food. Don't be afraid of whole milk. Children need dietary fat for their growing brains and whole milk contributes to a lower BMI and better vitamin D absorption than skim milk. The best beverage of all is water. The earlier you start giving them water the more they will prefer water as a drink.  (If desired, buy a low-sugar, high-quality electrolyte mix to add flavor to the water.)
Finally as you sit down for dinner don't expect dinnertime to look like a Norman Rockwell painting. Try not to push them to eat everything on their plate.  Let them practice listening to their full signals! Remember all the habits they are learning now will mostly likely follow them through their adult life.
If they ask for a snack five minutes after telling you they're finished, bring their dinner back out and ask them to finish it first.
Let your children enjoy the treats that life brings, while recognizing that food choices really do matter!
Twitters Weekly Answer: Quit Stalking Me!
Fact: Don't overfeed infants and young children — they can usually self-regulate the amount of calories they need each day. Children shouldn't be forced to finish meals if they aren't hungry as they often vary caloric intake from meal to meal.
Awareness Challenge this week: Start by picking 3 new meal options to introduce to your kids this week. Introduce the rainbow challenge also from last week so it makes it a fun game to get all your colors in the meals. 
Tune in next time; we'll share some ideas for your winter workouts!  
 In the meantime, if you'd like to know more about changing your unhealthy behaviors, reach out to us for our professional guidance and support. Give us a call!
Farmington  505.787.2981     Durango  970.764.4133    Ormond Beach 386.238.9222  Asheville 828.552.3333
"Our children's health and well-being are dependent on our commitment to promoting food access and good eating habits at home, at school and in the community." – Rob Blagojevich
Blog Photo Credit: http://www.tomcoloring.xyz/2014/04/coloring-pages-of-healthy-foods.html
Cover Photo Credit: https://www.marksdailyapple.com/17-primal-tips-for-vegans-and-vegetarians/