Overcoming Challenges
Healthy Living During Social Gatherings & Holidays
Among the most challenging situations you can face while adopting a healthier lifestyle or losing weight are social gatherings and parties. You don't have to isolate yourself to stay on track. So here are some tips to help keep you enjoying your friends and family while you stay committed to your plan.
Lets Get Prepared! 
First, offer to bring a dish that fits within your chosen diet to ensure that you have at least one choice you can enjoy.
Grab a sparkling water instead of an alcoholic beverage or make a pitcher of water infused with mint, lemon or cucumber if you're the host.
Eat before you go! It's easier to pass on the cookies and chips when you're not hungry.
Avoid skipping meals during the day. You're more likely to splurge at the party later when you're hungry.
Use a smaller plate to keep your portions reasonable
Step away from the buffet table while chatting
Don't go for seconds
Eat slowly and mindfully to give your hormones a chance to catch up with your eating. Remember it takes about twenty minutes after you stop eating to feel full.
Focus on friends and family rather than eating more food
Avoid the trap of feeling like you can indulge yourself because it's a special occasion
Stop yourself and take time to consider your goals
Is it really worth losing the progress you've made??
Stay on track and you'll soon be looking forward to parties where your friends and family will compliment the happier, healthier you.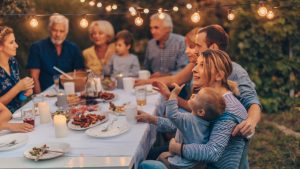 Keep showing up for yourself and learn how to be better for YOU! Keep feeding yourself with the foods that make you thrive. People will soon be looking up to you and wanting to follow in your steps.
Fact: It turns out that the human brain has a great potential for something called neuronal plasticity, or in other words, being highly malleable. It appears that challenging our brains — for example, by learning a new skill — leads to actual changes in the adult brain. "It may create new connections between brain cells by changing the balance of available neurotransmitters and changing how connections are made," says Dr. Papp.
Awareness Challenge this week:  Stress relieving activities! As the holidays are upon us we find ourselves in more stressful situations. Incorporate one of these helpful practices, meditating, yoga, deep breathing or exercising so you'll be sure to overcome any obstacle that comes your way. 
Tune in next time; we will cover how to achieve goals.
 In the meantime, if you'd like to know more about changing your unhealthy behaviors, reach out to us for our professional guidance and support. Give us a call!
Farmington  505.787.2981     Durango  970.764.4133    Ormond Beach 386.238.9222  Asheville 828.552.3333
We don't grow when things are easy. We grow when we face challenges.
Blog Photo Credit: https://www.nationserve.com/blog/thanksgiving-dinner-party-garage
Cover Photo Credit: https://www.lifeoptimizer.org/2015/02/17/overcoming-challenges/