History of Dietary Fat
Let's Go Back in Time to Understand the Story of Fat As We Know it Today
We have been inundated with messages that link dietary fat to heart disease, however, when we dive into the literature surrounding the topic, we find that the data doesn't actually support this notion.
The prevailing attitudes toward dietary fat come from a 1960s study of heart disease that drew conclusions from only seven countries, although researcher Ancel Keys initially tracked dietary fat consumption in twenty-two. If he had included data from all twenty-two countries he studied, he would have come up with a different conclusion surrounding the effects of dietary fat consumption.  Ancel Keys' faulty results were supported at the time by the scientific community, made it to the cover of Time Magazine and eventually became part of the nutritional gospel rooted in our dietary advice still today!
Subsequent studies seemed to support the correlation between dietary fat and heart disease but they were as faulty as the initial research.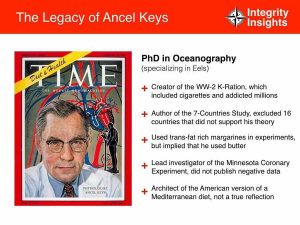 In fact, one such study concluded that eggs were as bad for you as cigarettes. But how could an egg, the most perfect natural combination of fat, protein, vitamins and minerals be compared to cigarettes? We know we should eat whole foods as close to their natural state as possible and avoid processed foods. So why would we remove the yolk from an egg in the name of healthier eating? Why should margarine be better than butter, vegetable oil better than olive oil, or fat-free flavored yogurt better than whole fat plain yogurt? And what about bacon?! It's supposed to come from pork belly not mashed turkey pieces. Dietary fat is not your enemy!!
If we want to let go of body fat and reduce inflammation we need to start looking at food in a new way.
Fact: Saturated fatty acids constitute at least 50% of the cell membranes. They are what gives our cells necessary stiffness and integrity. 
Awareness Challenge this week: Replace your vegetable oils with olive oil, pasture raised butter, avocado oil, ghee, etc. 
Tune in next time; we will cover the importance of protein.
In the meantime, if you need help achieving your New Year's resolutions, we are here for you with professional guidance and support. Give us a call!
Farmington  505.787.2981     Durango  970.764.4133    Ormond Beach 386.238.9222  Asheville 828.552.3333
"With the new day comes new strength and new thoughts." – Eleanor Roosevelt 
Blog Video: https://www.youtube.com/watch?v=dNTvG22HE6U
Blog Photo Credit: http://drcate.com/what-every-doctor-should-know-about-ancel-keys-experiments/
Cover Photo Credit: https://www.huffingtonpost.com/entry/the-posthumous-assassination-of-dr-ancel-keys_us_58581561e4b0d5f48e165198