Alcohol and Weightloss
Cheers to Health! 
There are many components to a healthy lifestyle, so how does alcohol fit into the equation?
If your goal is weight loss then it's best to steer clear of alcohol.   Alcohol is processed through the liver, and for 4-8 hours after consumption of a single shot, the liver will stop fat burn in order to process the alcohol. While the liver is preoccupied processing the alcohol, the carbs from carb-heavy beverages (beer, sweetened drinks, hard liquor with mixers) are building up with nowhere to go but into your fat stores. Keep in mind that alcohol is calorie dense, yet has no nutritional value.  It is the first fuel source to burn when ingested, which means that fat will not be utilized as long as alcohol is in the system.
Depending upon your body size, one two-ounce shot takes about four to eight hours for your liver to process and every additional serving adds up exponentially. That means a heavy night of drinking can take your body one to two days to return to its ability to burn fat. If you wish to enjoy an occasional cocktail, avoid beer altogether! One beer is the equivalent of two to three slices of bread. If weight loss is your goal this will make you gain weight!  Once you have reached your target weight, do not drink beer more than once per week.  Hard liquors are the best choice for a fat-reducing diet, but be aware all alcohol will reduce your ability to burn fat. Tequila is the cleanest alcohol, but vodka, gin, whisky, and scotch are also lower carbohydrate options. Wine can be a good choice as well, so try a dry red and avoid cocktails with sweetened mixes.  No matter what you choose, be sure to enjoy responsibly!
Fact: Alcohol intake of all levels can lead to impaired digestion and absorption of basic macro- and micronutrients. This can greatly affect the metabolism of organs that play a role in weight management.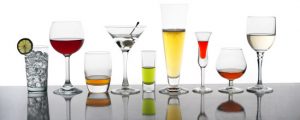 Mocktail Options:
1.5 oz Bragg's Apple Cider Vinegar, 1 lime wedge, 3-4 ice cubes, 1/4 tsp ground cinnamon, 1/2 can Zevia mixer Ginger Beer

Raspberry Limeade Cocktail: 1 

can

 

Dasani Sparkling Raspberry Lemonade, 3 unsweetened raspberries, 1/2 cup crushed ice, one juiced lime, 1/8 tsp vanilla stevia drops 
Low Carb Cocktail Options:
2 ounces vodka with 4 ounces soda water, a lime twist and cucumber, on the rocks.
2 ounces tequila, some lime juice and 4 ounces of club soda. Sugar-free Margarita!
2 ounces vodka, muddled with fresh mint and lime, sweetened lightly with stevia, and topped with 6 ounces of soda water, over ice (think: a mojito).
3 ounces of chilled dry white wine with 2 ounces soda water and a dash of bitters, if desired (think: a white wine spritzer).
Credit: Isadora Baum 
Awareness Challenge this week: Fill your wine glass with sparkling water if you have the urge to drink something. If you do drink make sure you stop an hour before eating and wait until an hour after so you don't interfere with your digestion. 
Tune in next time; we will cover the history of dietary fat.
In the meantime, if you need help achieving your New Year's resolutions, we are here for you with professional guidance and support. Give us a call!
Farmington  505.787.2981     Durango  970.764.4133    Ormond Beach 386.238.9222  Asheville 828.552.3333
"Don't wait. The time will never be just right." – Napoleon Hill 
Blog Video: https://www.youtube.com/watch?v=tjHSawtDB04&feature=youtu.be
Cover Photo Credit: Jacob Lund/Shutterstock